Volume I - 1909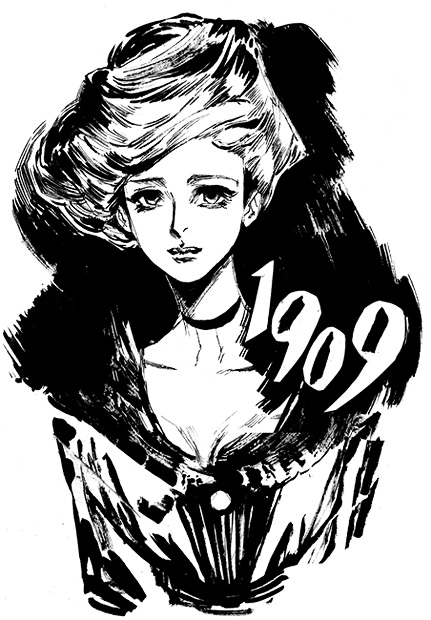 Edaline "Edie" Harling (24 years old)
- Adult Edie is out and about in the world at a time when it is still considered rather scandalous for a woman to be independent. Edie is an extreme fashion plate, but despite her good looks and outgoing demeanor she is forced to maintain a solitary lifestyle by nature of her profession and mission. Gary has been her one constant companion since the loss of her parents. She would do anything for him if it was in her power, and if it wasn't, then she would find a way to obtain new powers.
Prologue - 1899
Edaline 'Edie' Harling (14 years old) - The prototypical spunky, modern American girl, young Edie knows that she and her father live a fairly well-appointed upper middle class life in Boston, but at the story's start she has no idea what her father does to afford them such comfortable circumstances. As the sole woman of the house and her father's only real companion she is usually afforded full disclosure on all topics but this, and it is such a large omission that its gaping nonpresence irks her terribly.
Owen Harling - Edie's dashing and somewhat eccentric father who cherishes his daughter's presence in every aspect of his life but his private study and laboratory. Mr. Harling knows that Edie's curiosity will soon reach a bubbling frenzy if not put to rest, so he resolves to introduce her quite abruptly to his previously clandestine business practices. Rather than cooling Edie's interest this sudden insight only fans her desire for more knowledge, but Owen knows more than he's willing to let on to anyone.